What is included in our Basic Event Package?
Email us at   highpointfarms@gmail.com for pricing information, more details, etc.  Pricing amount is only as informative as knowing what all is included in the price – both in services, various facilities, hours, furniture pieces and decor, and logistics.
Noon to 11:30 PM
Come at noon to begin your preparations. Full exit by 11:30 PM.
Tables and Chairs
We have 20 round tables plus a slew of rustic farmhouse type tables.
Various Furniture Pieces
We have quite an assortment of extra furniture pieces that you can use to compliment your set-up.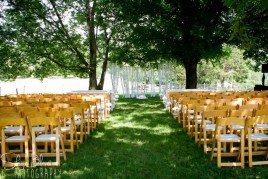 Set Up and Clean Up
We set up your furniture pieces (not the decorating) and handle clean up at night's end.
Bridal Prep In Farmhouse
The Bridal party has use of the old farmhouse through 8 p.m. for her preparation.
Groom's Room/Milk House
The Grooms Room (a.k.a. Man Cave) is a converted Milk House (with a/c) where the men can prep.
On-Site Parking
Our On-Site Parking is an easy gentle walk to the barn with a drop-off loop available.
Freebie Decor Stall
We have lots of available decor you can borrow to help embellish the layout .
Lights Galore
Lights strung inside the barn and out - all to create an amazing ambiance.
Restrooms
Adorable lounge and restrooms under the cover of the barn even a handicap friendly restroom and changing station.
Caterer's Workstation
We have no kitchen but a workstation for the caterer's which has two refrigerators and a small deep chest freezer so you can store your ice.
Vendor Suggestion Page
We allow our brides to choose their own vendors but we do offer a Vendor Suggestion Page as a resource option.
The Watering Hole
We do allow beer, wine, and champagne (only). You bring it which saves you money. Stipulations apply.
Clean Up
at night's end, we handle clean up. You take your items and we put back tables and chairs.
Are there extra services or rentals that High Point Farms offers?   Yes!
Extra Decor Items
We have many extra decor pieces that can be rented for your special day; linens, decanters, vintage china, furniture pieces, etc. ecloths, linens for your reception tables, vintage chairs, old blue mason jars, quilts, haybales, coffee tables, and mason jars.
Extra Services To Offer Solutions
Extras like Decorating Package, Day of Coordinator, Hired Staff for your wedding day solutions, and much more.
Fun Extras
We have many extras that we classify as fun - like our "Goat on a Leash" or bonfire.
Vintage China
We have a vintage china collection to upgrade your event to an elegant level (for up to 100 guests). Email for prices.
Mimi's Guest House
Mimi's Guests House has a wide range of uses and options whether for "day of usage" or for on-site lodging.
Two-Night Full Day Rehearsal Dinner Package Option
We offer a rehearsal dinner package option which includes use of venue plus 2-nite stay at the guest house.