What is included in our Basic Event Package?
Email us at   highpointfarms@gmail.com for pricing information, more details, etc.  Pricing amount is only as informative as knowing what all is included in the price – both in services, various facilities, hours, furniture pieces and decor, and logistics.
Noon to 11:30 PM
Come at noon to begin your preparations. Full exit by 11:30 PM.
Tables and Chairs
We have for your use 200 wooden chairs with a white vinyl seat plus 20 round tables.
Various Furniture Pieces
We have several various furniture pieces (like 3 barnwood tables, 4 white vintage church pews, a vintage table, a farmhouse table, a cast iron tub, haywagon) that we allow you to use to help facilitate sign in, head tables, dessert table or gift table needs.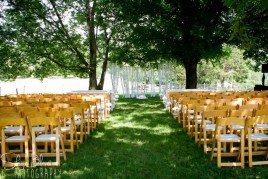 Set Up and Break Down Service
We set up your chairs and tables and other furniture pieces. This does not include decorating but the "grunt work" of the logistics. We also break down these items at nights end.
Bridal Preparation/Farmhouse
The Bridal party has use of the old farmhouse through 8 p.m. for her preparation. This has the Bridal Room plus two restrooms, a den, and a small kitchen.
Groom's Room/Milk House
The Grooms Room (a.k.a. Man Cave) is a converted Milk House that has an air-conditioned room for the Groomsmen to change clothes in. Available till 11:30 PM.
On-Site Parking
Our On-Site Parking is an easy gentle walk to the barn with a drop-off loop available if necessary. We like for the parking to be close but not in the photographs.
Freebie Decor Stall
We have a whole "stall" of freebie decor pieces such as log rounds, lanterns, wash tins, shepherd crooks, and a slew of various chalkboard signs.
Lights Galore
We have already strung lights in the barn, in the dance hall, and in many areas outside the barn so that you have the ambiance needed and the light available to enjoy the outside activities into the night.
Restrooms
Within the cover of the barn, we have a lounge that includes two restrooms for the ladies, one for the gents and then a "family restroom" which has a handicapped toilet and a baby changing station.
Caterer's Workstation
We have no kitchen but a workstation for the caterer's which has two refrigerators and a small deep chest freezer so you can store your ice.
Vendor Suggestion Page
We allow our brides to choose their own vendors but we do offer a Vendor Suggestion Page which contains only vendors who have come to the farm - we have seen them conduct themselves as professionals AND we have received a positive review from our bride.
Bar "Stall"
We do allow beer, wine, and champagne (only). We do have a few stipulations including that we require a licensed bartender who comes with the required liquor liability insurance. We do have a great bar under roof that helps keep the clutter of the bottles behind the counter.
Clean Up
At the night's end, HP Farms will handle your clean up to return the farm back to its normal state - plus dispose of all bottles and garbages. (Your caterer is required to handle her own garbage.)
Are there extra services or rentals that High Point Farms offers?   Yes!
Extra Time
Need more time? You can add "the rest of the day" (8 a.m. to noon) to your Basic Event Package time-frame for those who may want an early rehearsal, a bridal party brunch, or to those who need more primp or prep time.
Extra Decor Items
We have many extra decor pieces that can be rented for your special day including items such as our vintage chandeliers, decanters, lace tablecloths, linens for your reception tables, vintage chairs, old blue mason jars, quilts, haybales, coffee tables, and mason jars.
Decorating Services
We are willing to have a conversation with you about decorating for your event. We have treasures galore that can script this day as you like whether that is a bit vintage or maybe simple elegance or a garden theme or shabby chic or? No two are just alike.
Day of Coordinator
DOC - part day (noon to t pm) $300 or all day $500. Helps you keep on your timeline, oversees your vendors, oversee sparkler send off, helps to steer guests to restrooms or any assistance, and helps with procession;in essence having somebody on-site for troubleshooting so you can focus on your day.
Vintage China
We offer a vintage china collection package to upgrade your event to an elegant level. We have vintage platters and bowls for those family-style dining options. We also do have vintage tea cups for those coffee or cider drinkers.
Hired Staff
HP Farms can hire extra staff to help fill your specific needs whether for busing tables, moving chairs, or helping you pack up your items at night's end.
Dessert Smorgasbord Set Up Service
With our vintage dessertwares and our eye for the dramatic, HP Farms offers a set up service for your dessert smorgasbord so that it looks visually as good as it will taste.
Fun Extras
We have many extras that we classify as fun - like our "Goat on a Leash" to bring the farm experience to visit your guests or one of most desired add-ons is a bonfire - any month of the year it is nice to sit by the fire and star gaze......and even more.
Mimi's Guest House-Day Of Usage Only
Mimi's Guests House has a wide open floor plan with a kitchen/bar area, several lounge areas, and a sectional sofa with large screen TV area. Using this house day of means more comfy space for groomsmen or for extended prep area or for bridal party lunches, etc. Another great advantage is that you have access to the main floor shower in case some of your decorating crew need a quick shower without having to drive back into town to their motel.
Mimi's Guest House/On-Site Lodging
Mimi's Guest House can be rented as Day of Usage then adding On-Site Lodging for convenience. A Master Suite upstairs with king size bed with private bathroom is option #1 or to add the three extra bedrooms downstairs with three queen beds is option #2.
Two-Night Full Day Rehearsal Dinner Package Option
For our Friday or Saturday brides only (and as the calendar allows) we offer a combo package that includes the following: 1. Use of the barn from 5-10 PM the "night before" your wedding for your rehearsal dinner where we handle set up, linens, simple table decor, clean-up - you secure your caterer, 2. Rehearsal night at Mimi's Guest House - sleeps 8, 3. Wedding Day includes access not only to the Guest House but to the farmhouse and barn venue so prepping and decorating can be done without time constraints , and 4.Continue use of the Guest House and enjoying having a close place to drop after the long day. (THIS IS ONLY FOR BRIDES WHO HAVE ALREADY BOOKED THEIR WEDDING DAY WITH US AS A COURTESY OPTION FOR MORE SERVICES AT A REDUCED RATE.)