What is included in our Basic Event Package?
Noon to 11:30 PM
Come at noon to begin your preparations. Full exit by 11:30 PM.
Tables and Chairs
Round banquet tables plus a slew of rustic tables and chairs.
Various Furniture Pieces
An assortment of furniture pieces that you can use to compliment your set-up.
Lay Out Design Choices
Choices of where your ceremony will be and your reception area design.
Set Up and Clean Up
We set out the furniture ( the grunt work) and also handle clean up at night's end.
Bridal Suite In Farmhouse For Prepping
A Bridal Suite at the farmhouse full of mirrors, kitchen area, and private restroom.
Lights and Curtains Galore
Curtains hung all over & lights strung inside the barn and out creating an amazing ambiance.s of curtains too.
Freebie Decor Stall
A whole room full of bits of decor like chalkboard signs, lanterns, log rounds, wine bottles, and more.
Groom's Pre-Ceremony Prepping Area
Spacious area in the Guest House with kitchen area too plus TV and Internet.
Air-Conditioned Dance Hall
Dance the night away in comfort or even opt to use this as a dessert room or lounge.
Vendor Suggestion Page
We allow our brides to choose their own vendors but we do offer a Vendor Suggestion Page as a resource option.
The Watering Hole
We do allow beer, wine, and champagne (only). You bring it which saves you money. Stipulations apply.
Restrooms
Adorable lounge and restrooms under the cover of the barn plus a handicap friendly restroom & changing station.
Caterer's Workstation
Our Caterer's work area is conveniently located in barn near the food stations.
On-Site Parking
Our On-Site Parking is an easy gentle walk to the barn with a drop-off loop available.
Be sure to check out our other package options
and our
Why Choose Us?
Photo by The Nashville Collection
We like to think that there is a perfect wedding venue for each unique bride and we cannot attempt to be that perfect place for every bride.  Here is a short list of what we feel our best assets are (in no particular order):
1.  Authentic Barn:  Real weathered wood, old trolley barn doors, huge rusted tin doors, converted horse stalls, and hay stacked in the loft…all these contribute to a nostalgic ambiance void of pretentious airs and encourages a laid back mood. We have made additions and improvements but only by keeping that same template.  If its not old or original, chances are you can't tell the difference.

2.  Family Farm:  A garden full of vegetables in all seasons, blueberry bushes as part of our landscaping, raised beds fulled of herbs, veggies, and flowers, old-fashioned pear trees that produce but show their age,  trellising muscadines sprawling in the parking lot, and more…flowers of all sorts in all seasons dotted along pathways, around patios, planted in vintage wheelbarrows and horse troughs…large round haybales lining the fence row, an old tractor parked by the garden, our vintage pre-Civil War farmhouse, milkhouse, goats and horses, and more…We have 3 generations here on the farm where we all contribute in many ways to this family business.  This is more than just a piece of business property – it is our home and our heart and soul that we labor for you and share with you.  It all creates a very laid back comfortable atmosphere for bride, groom, and guests alike.

3.  Trees – Trees – Trees:  We love all the varieties of trees here. Our old pear trees still produce but exude character. The big towering pecan tree woos many a bride to her for a ceremony site. Lots of cedar, colorful maples, silver birch, sassafras, black walnut, magnolias, and more…..translates into lots of beauty, color, and SHADE.
 4.  Attention To Detail:  Everywhere you look around the barn, the farm, the Farmhouse, the Guesthouse, the pathways….you see our thumbprint.  Often subtle, sometimes bold, always purposeful, regularly repurposed….you see where we are making sure that we make it a wonderland for your photographer. Much of what you see if God's own handy-work but we try to accent it.  Our photographers notice and take advantage of it and you will indeed see them in your amazing photographs.
Randi Vasques Photography
5.  Amenities:   We have already transformed the barn and grounds – elevated the level of your event which takes the pressures off of what all you have to do to plan your wedding.  Because of all of the attention to detail, the lights and doily banner already hung, curtains draped, bottle wall created, interesting lights hung everywhere….it already looks ready for a gala.  We not only include tables and chairs but have so many unique furniture pieces for your uses as well like a cast iron tub for drinks, a hay wagon for a sign-in table or dessert smorgasbord, vintage and hand-crafted tables, and more.  Having on-site temperature controlled prep spaces for both bride and groom are vital. Having optional extra spaces like the Guest House on-site can be a solution to many issues.  We have an air-conditioned Dance Hall where you can boogie in comfort.
Photo by Brian Dean Photography
6.  Choices:    Oh, do we have the choices; pricing options, ceremony site choices, layout design unique to your wedding, vendor choice, and extra rental options.  All of these choices are designed to help you make this wedding your own and created around your vision – your resources – your needs and desires – and your budget.  (See below for more information on our Add-On options.)

Photo by Ashlandashaw Photography
If you are on a tight budget, check out the link below to a Farm Blog
where we identified multiple ways that we can still be the right choice for you. 
Extra Rental Options/Add-Ons
Beyond all of the services and items that are included in our Basic Event Package, HP Farms offers a slew of extra rental options that we refer to as Add-Ons.  Some of these are rental type items such as chandeliers, vintage sofas, haybale sofas.  Some are fun things like bonfire or our infamous "Goat on a Leash."  Others are considered more like services such as Day of Coordinator, Decorating Services, and Farm Flowers.  Finally, some are geared around lodging, adding a Rehearsal Dinner Package, or more time.  Again – this is all geared around providing choices to you.  Below is a little sampling of the types of Add-Ons that we offer.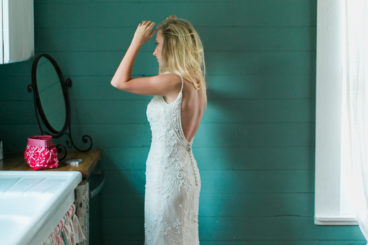 Farmhouse - Full House & Lodging
Mimi's Guest House lodging and only "Day of" Usage options
Vintage Sofas - Several to choose from
Haybales - Large rounds or smaller squares
Vintage China Package - Mis-matched vintage place setting
Goat Visitation - Entertains guests or as a photo op
Decorating Services - Lots of choices in style and look.
Fresh Farm Flowers - Arranged Bouquets/Centerpieces or Per Bucket
Portable Sound System
Alternative to DJ (Includes Mic & Stand) $100
Bonfire - Glorious Ambiance
Built - Lit - Well Maintained
Haybale Sofas
Haybale Sofas with neutral coverings to add cute and extra seating. $35 (Coffee table adds $15 if you desire them.)
The Barn at High Point Farms    263 Parrish Lane, Flintstone, GA   30725