The Barn at High Point Farms Photos
A Sampler Gallery for each bride of the current year.  
The Gridine's by R. Chavez Photo
Photos certainly captured their personalities.
Beautiful day for a wedding.
Ceremony very romantic – and the groom's expression was priceless.
Photos to remember.
Memorable to the end.
Sophia and Robbie by Stephenie Richer Photography
The day begins with the bride prepping in the farmhouse, venue gets prepped with signs, flower gardens get watered, ceremony chairs and her cross get brought out, and the goats head up towards the fence to watch all of the commotion.
Sophia and Robbie are travelers at any opportunity.  They have hiked all over the states and all sorts of state parks especially loving Colorado.  Sophia wanted to do a "travel theme" for her sign in and gift area.
Continuing a bit with her traveling theme, just wanted to us to create a woodsy but somehow elegant approach to her table decor.  With all of her hiking adventures, she especially wanted moss influences.  This is what we came up with.
Sophia requested the cross as a backdrop.  I think it is always beautiful to add the cross.  With Sophia's elegant style, we thought the draped material along with the vine garland would be a good match up.  Down the aisle, we had the glassed candles encircled by moss atop one of our log stumps.
Bride and her father exit the barn and enter the ceremony aisle.
Then off to further locations for those romantic photos.  Wow – how do you pick one or two of these when so many of them are amazing.  Even, at the creek, they had fun with a piggy back photo.
Liza and Sam by The Nashville Wedding Collection
Mackenzie and Jonathan by Shane Hawkins Photography
Liz and Russell by John Shim Photography
Noelle and Andrew by Noble Photo LLC
Kristin and Wang by Ninja Shark Photography
Tara and Justin – June 2018 (Bri Sanders Photography)
Cady and Chaz – May 2018  (Alex Dimmer Photography)
Jessica  and Ryan  – May 2018  (Holt Webb  Photography)
Lauren and Josh – April 2018 (Wonderly Creative Photography)
Erin and Marcus – May 2018 (Imago Photography)
Shelbey and Christian – May 2018  (Kenzie Stephens Photography)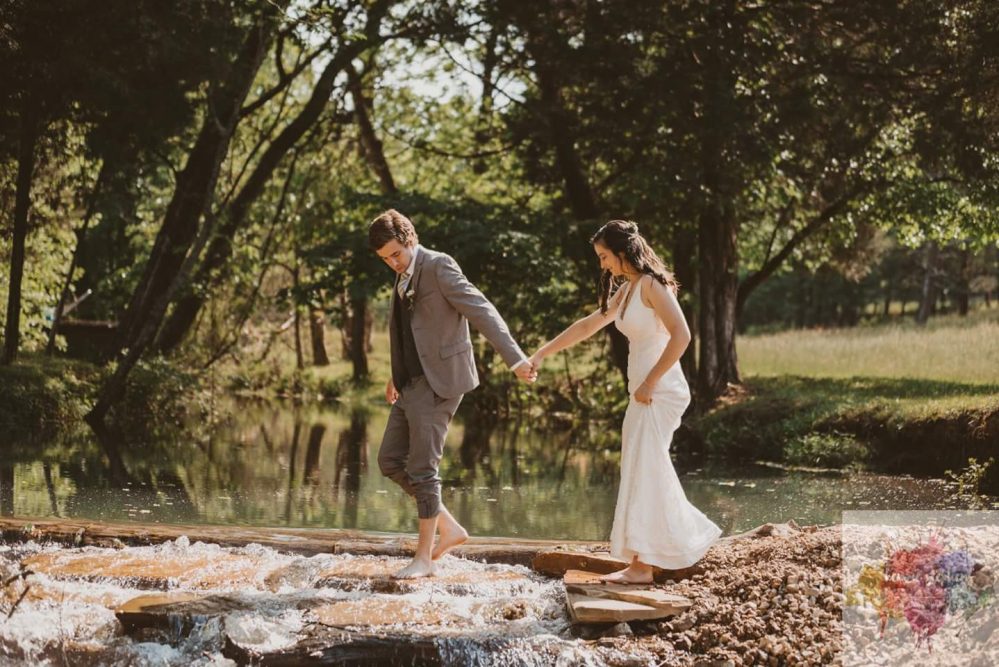 Lee Anna and Matt    April 2018  (Imago Photography)
Brit and Josh     March 2018  (Susan Franklin Photography)
Leigh Ann and Brian – March 2018  (Jenn Blackburn Photography)